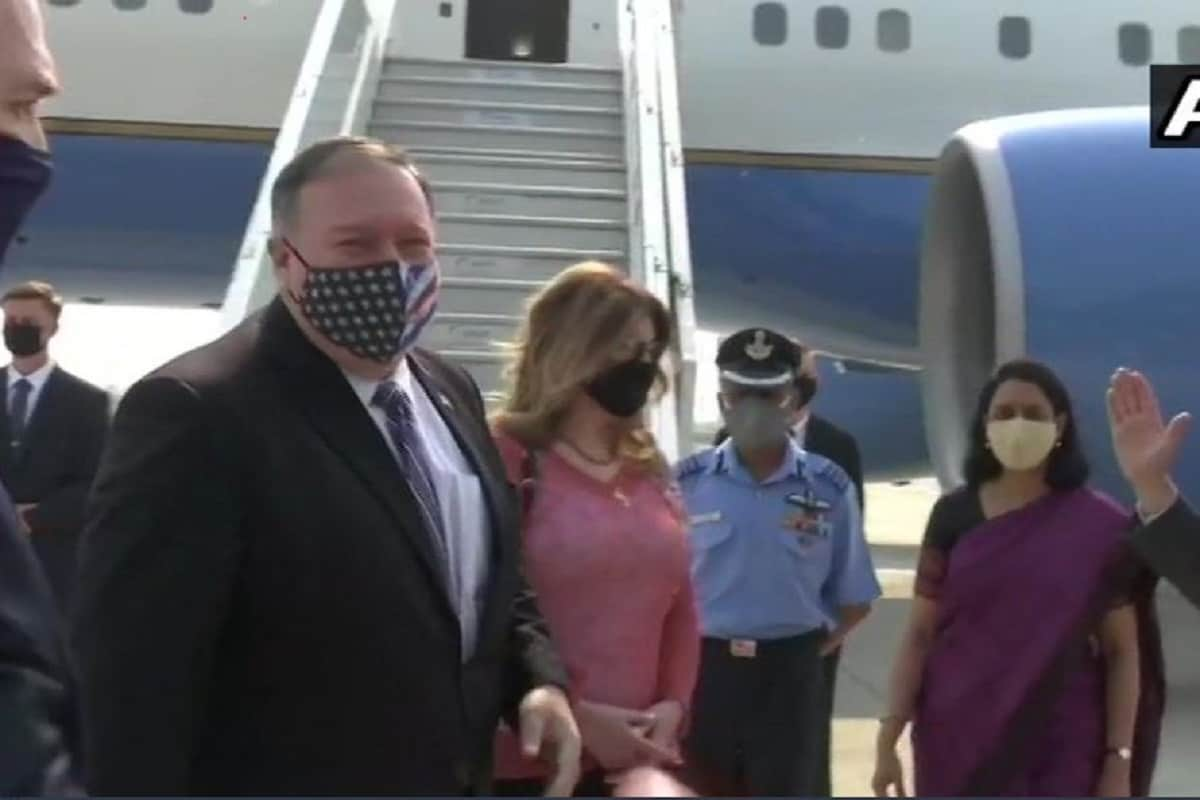 Washington / New Delhi.
US Secretary of State Mike Pompeo arrived in India on Monday for 'two plus two' talks to prepare a counter-strategy for China's aggressive approach in South Asia, particularly in eastern Ladakh. Apart from Pompeo, US Defense Minister Mark Esper is also coming to India for this dialogue. After the Quad, the visit of the US Secretary of State to India is considered very important and this meeting with Foreign Minister S Jayashankar and Defense Minister Rajnath Singh in New Delhi will be historic in many ways.
Apart from the counter strategy against China, these two countries will also have important military agreements and the Basic Exchanges and Cooperation Agreement for Geospatial Cooperation (BECA) is also likely to be agreed. Let us tell you that these talks are being done under the formula 'Two plus two' given by Prime Minister Narendra Modi, although it means only bilateral talks.
US Secretary of State Michael Pompeo and his wife, Susan Pompeo, arrive in Delhi.

US Secretary of State Michael Pompeo is in India today to participate in the third India-US 2 + 2 Ministerial Dialogue tomorrow. pic.twitter.com/Fxzzr6TvXh– ANI (@ANI) October 26, 2020
Prime Minister Narendra Modi and US President Donald Trump had announced 2 + 2 talks during their first meeting in 2017. The first edition of this meeting was held in New Delhi in September 2018, while the second meeting was held in Washington in December last year. The 2 + 2 dialog has replaced the Foreign and Commerce Ministerial level meeting between the two countries in the Obama administration.
The format of this meeting derives from Japan, which aims to facilitate high-level diplomatic and political dialogue between the two countries for defense cooperation. It is called 'two plus two' because it is a joint meeting between defense and foreign ministers of two countries.
2 + 2 meeting is strong message after China
The quad talks were held in Japan the previous day before the 2 + 2 meeting. The Quad is said to be a group of four countries – America, Australia, Japan and India, and in this meeting also the response to China's aggression was discussed. Now China is also worried about the 2 + 2 meeting between India and America.
US Secretary of State Mike Pompeo and President Trump have consistently spoken out against China's aggressive and provocative behavior. The US is working on a strategy to rein in China in South Asia by increasing defense cooperation with India. China is seeing a growing security corporation between India and the US as a threat to its ambition in the Indian Pacific.
BECA agreement and Covid vaccine also discussed
Let us know that in this meeting important discussion will also be held on Kovid-19. The US is already assisting in the manufacturing and distribution of India's Corona vaccine. Many corona vaccine trials are also being conducted in India and are in the third phase. Apart from the vaccine, there is going to be a historic agreement between the two countries in the meeting. The Basic Exchange and Cooperation Agreement for Geospatial Cooperation (BECA) will be signed at the 2 + 2 meeting. BECA along with America will give India very accurate geospatial data, which can be used in the military best.
The BECA is the last of the three core agreements that the US has with its special allies. This opens the way for sharing sensitive and classified information. BECA aims to be a partnership of geospatial data, including nautical and aeronautical charts. Data from accurate US satellites will help in navigating along with targeting military targets. Things that can be exchanged under BECA include maps, nautical and aeronautical charts, commercial and other unclassified imagery, geodetic, geo-physical, geo-magnetic and gravity data. This data can be in print or digital format.