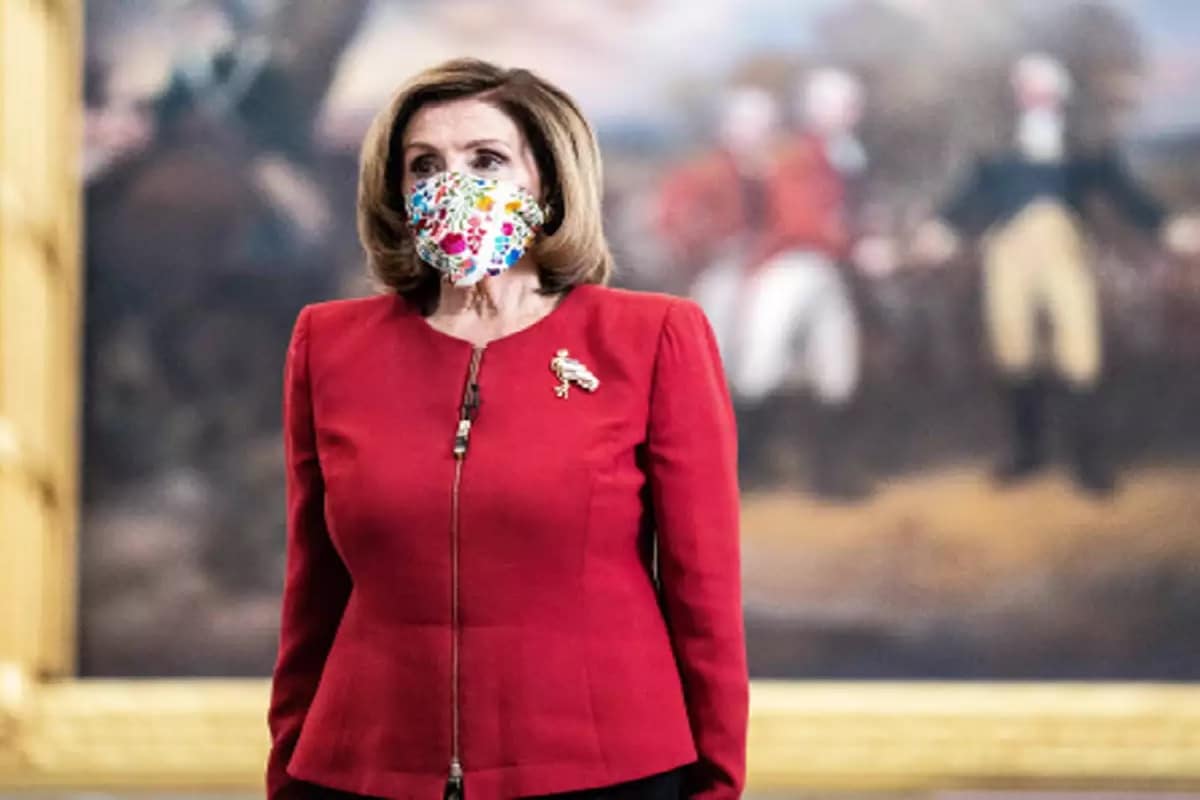 Speaker of the US House of Representatives Nancy Pelosi
According to the Speaker of the US House of Representatives Nancy Pelosi, Dramocrat will bring impeachment motion in Parliament against Donald Trump. This impeachment motion will be brought with the attack on the US Parliament on January 6, for which Trump is being held responsible.
Last Updated:January 11, 2021, 7:37 PM IST
Washington.
In the US, Speaker of the House of Representatives Nancy Pelosi said on Sunday that the House would take impeachment proceedings against President Donald Trump. At the same time, he also urged Vice President Mike Pence and the Cabinet to take steps to remove the trump, saying that he (Trump) is a threat to democracy.
A report has said that if the behavior of Trump becomes more irregular, then he can be removed from the post under the 25th amendment. The Vice President and the majority cabinet have the right to remove the President from office through the 25th Amendment in the US. Vice President Mike Pence Donald trump (Donald Trump) has not ruled out using the 25th amendment to remove him from power. Meanwhile, Speaker of the House of Representatives Nancy Pelosi has said that if President Donald Trump does not give 'immediate resignation' in case of inciting the crowd to enter the Capitol building, then the process of impeachment to remove him Will move forward with
Joe Biden will take the oath of office on January 20, following Trump's defeat in the election held on November 3. Pelosi and Democrat leaders believe that Trump should be removed from office immediately after the incident of Trump's supporters entering the Capitol Building (Parliament) on Wednesday. Pelosi said in a statement, 'Members expect Trump to resign immediately, but if he does not, I have directed the Rules Committee to proceed with MP Jamie Ruskin's 25th amendment and impeachment motion. Go.
How were the trumped by the law of just 26 words, why the system could not change?
After hours of discussion on the issue of the House Democratic Caucus, he said, "As per rule, the House will preserve all options including 25th amendment, proposal for impeachment, privilege motion for impeachment".
House committee chairman also supported
MP Gregory Meeks, chairman of the House Committee on Foreign Affairs, also led the committee's demand for impeachment of Trump by Democratic lawmakers. In a letter to Pelosi, the lawmakers have said that it is extremely important to hold them responsible for restoring America's global leadership position in the matter of democracy and the rule of law.
Capitol hill violence: How often did Twitter and FB take action on the trump?
Biden said – America's law is not to protect a powerful person
The future US President Joe Biden has increased the pressure on Trump to act. He made a tweet without name, in which it is written that the law is not to save a powerful person. Joe Biden said, 'Our President is not above the law. Justice is for the service of the general public. Not to save any powerful person. (With AP input)