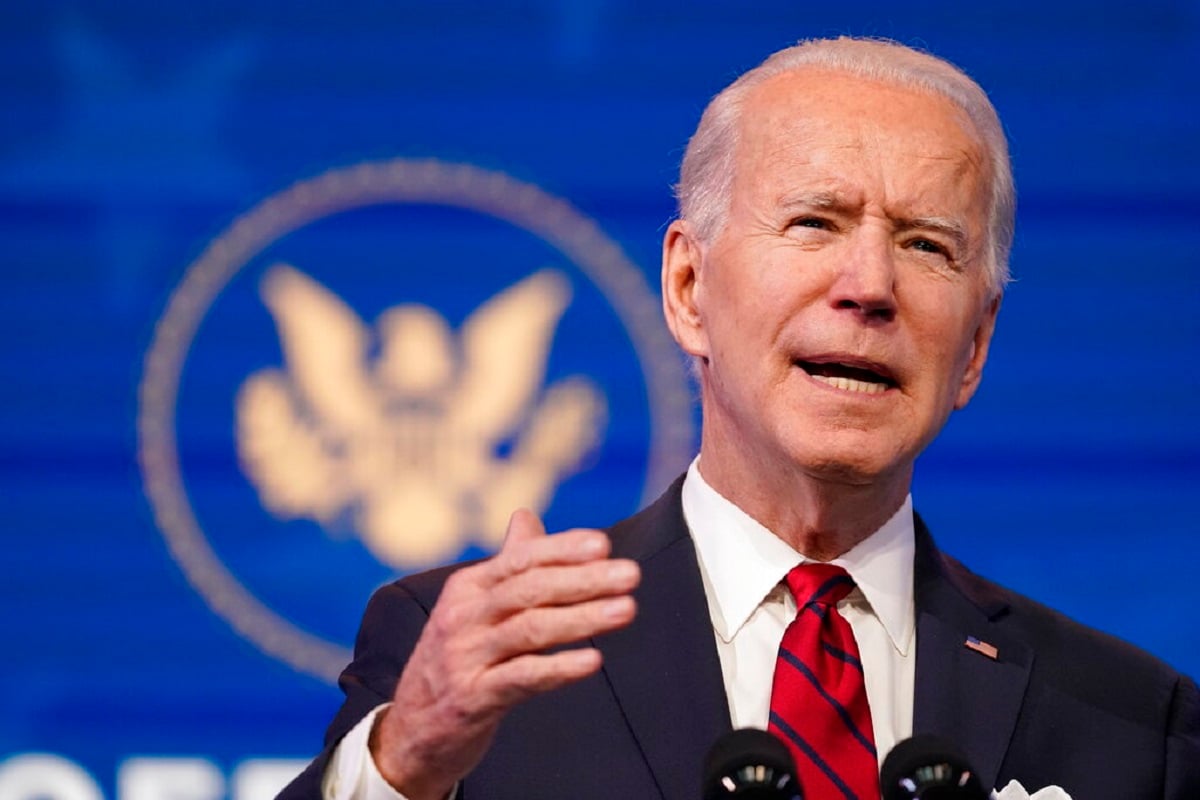 America's newly elected President Joe Biden. Photo: AP
Joe Biden Will Sign on Four Major Issues Executive Orders: America's newly elected President Joe Biden at his Inaugration Ceremony next week at the Coronavirus Pandemic, Coronavirus Pandemic, Climate Change and Climate Change Will sign executive orders related to issues like racial injustice.
Last Updated:January 17, 2021, 5:16 PM IST
Washington.
America's newly elected President Joe Biden will sign executive orders on issues such as the Coronavirus Pandemic, the decaying American economy, climate change and racial injustice at his Inaugration Ceremony next week. . With this, there are plans for the US to reissue the Paris Climate Agreement and sign orders to remove or change the ban imposed by Trump on the entry of people from Muslim-majority countries. Biden, along with Congress, will improve the visa system, H1-B visas, which can greatly benefit Indians.
Ron Bann, Joe Biden's senior aide and chief of staff, said in a memorandum to senior White House staffers that all these topics related to the crisis are demanding immediate action. Along with this, he also asked for the signing of "roughly a dozen" orders after the newly elected US President was sworn in on Wednesday. Clann said that in his first ten days in office, the President would take decisive action to overcome these four crises, prevent other urgent and irreversible losses, and bring America's position back to the same position in the world.
Corona epidemic and crispy recent economy
The US is rapidly going to cross the figure of 400,000 deaths due to Kovid-19 and is creating new history by registering one million new cases a week due to the uncontrolled corona. On the other hand, the condition of the economy is also poor. Today, 10 million jobs have reduced in America compared to the onset of the epidemic and American consumers and businesses are struggling to save their existence.Biden unveils $ 1.9 trillion plan
This week Joe Biden revealed a $ 1.9 trillion plan to revive the US economy, as well as plans to accelerate the faltering efforts to introduce the Corona vaccine in the US.
read this also: Former Pakistan PM Nawaz Sharif calls Prime Minister Imran Khan a 'criminal'
Two women judges shot dead in Afghanistan's Supreme Court, injured 3 other women
Ron Clain said Joe Biden would not only take action to reverse the huge damage done by the Trump administration, but would also begin to advance America.