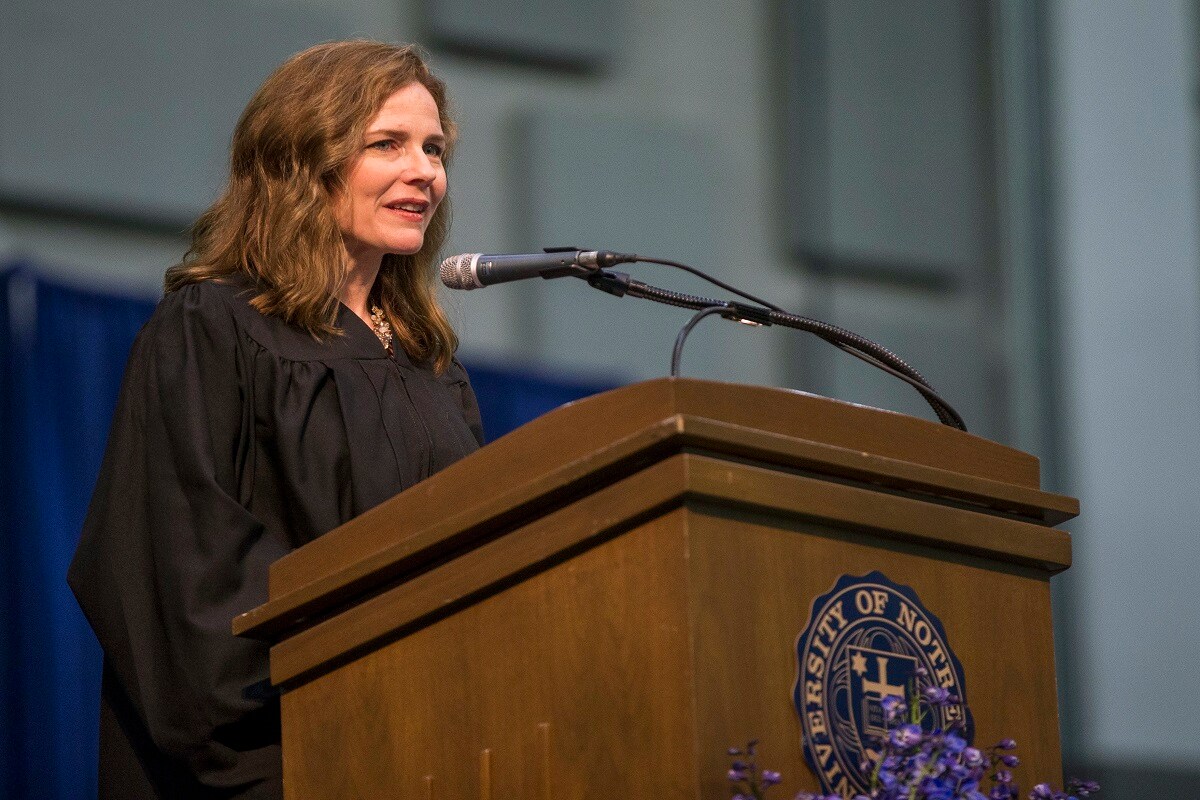 Amy Connie Baratt sworn in as Justice of the US Supreme Court.
Amy Coney Barrett was sworn in on Monday night as the 115th Justice of the US Supreme Court. During this, President Trump was also present.
Last Updated:October 27, 2020, 1:21 PM IST
Washington.
Amy Coney Barrett was sworn in as the 115th Justice of the US Supreme Court on Monday night. Earlier, the Senate had confirmed his appointment to the post of Justice in the Supreme Court. It is considered a major victory for US President Donald Trump before the presidential election. The Senate with a Republican majority confirmed Barratt's name by 52 votes against 48.
Justice Clarence Thomas administered the constitutional oath to Barrett at a ceremony in the South Lawn of the White House. Trump was also present there. After taking the oath, Barrett said, "I feel very honored to stand here today." At the same time, Trump said, "This is an important day for America, the Constitution of America and fair and neutral law." Democratic presidential presidential candidate Joe Biden targeted the Senate's confirmation of Barrett's name, saying the new judge should have been selected by the winner after winning the election on November 3.
In the presence of nearly 200 people, Justice Clarence Thomas administered the oath of constitution to Barrett. After taking the oath, Barrett said that she believes that "it is the job of a judge not to be influenced by her choice of policies" and that she will "do her work without any fear or favor". The post fell vacant after Judge Ruth Bader Ginsburg died in September. Chief Justice John Roberts will administer a second oath, known as a judicial oath, to the former Judge of the Federal Court of Appeal in a private ceremony in court on Tuesday.
There was a disputeThis was the first time that a judge was appointed in the Supreme Court so close to the presidential election. This was the first time in the modern history of America when the minority party has not supported the president-nominated judge at all. Democrats said for several weeks that voting on their appointment was being hastened in a wrong manner. Even on Sunday night, he insisted that he should get the right to nominate someone to fill the vacant post, who should register his victory in the presidential elections to be held on November 3.
The decision in many important cases is pending just one week before the elections and Barrett's vote can prove to be decisive in many of these cases. These include extending the time limit for absentee ballots in the states of North Carolina and Pennsylvania, and Trump's emergency appeal to prevent Manhattan District Attorneys from obtaining their income tax returns. On November 10, the Supreme Court is to hear the Affordable Care Act of the Obama era, which has been challenged at the behest of Trump.